Interior and Exterior Painting!!
One Call in excess of 30 years' experience in the construction business and knows what a good painter can do to spruce up the interior or exterior painted surfaces of your home. We take pride in offering the finest interior and exterior painting service and workmanship available — at a very competitive price.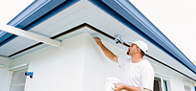 According to The Painting Group, "If you're thinking about painting your home or business interior or exterior, then think twice before trying to do it yourself. As you may already know, painting is a very challenging job that requires skill, finesse, and incredible patience. Hiring a professional painting contractor will provide much better results for both your home's interior and exterior".
In addition, we know that preparation of surfaces is the most important step in the entire painting process and without proper techniques, any paint applied will fail very quickly, which waists both time and money. That is why we also make sure to properly prepare surfaces and protect your landscaping, furniture and other delicate home features. We also have all the proper equipment to accomplish the job correctly, and in a timely and safe manner.
If you happen to live in or are purchasing a home that was built prior to 1978, you will need to determine if lead based paint is present. This is critical if you want to protect yourself and you family from lead based paint hazards.

Since One Call is an EPA Certified Renovation Firm, we can check your home for lead based paint hazards, repair painted elements and renovate you painted components using EPA approved methods. This process and the dangers to your family of not following EPA standards are available for review in the EPA Renovate Right booklet.
If you choose One Call, you can expect the highest quality workmanship and, if required, follow EPA processing requirements of your lead based paint issues. The objective is for your home to look picture perfect, be save and to be painted to your precise specifications. This includes paint type, color and attributes.
Our painting crews are also professional cleaning crews!! They always clean up after themselves, so you will never have to worry about coming home to a freshly painted but messy home.
In short, painting is what makes your home what it should be and our painters know how to make it so!!.
If you would like to get more information or see how we can help you turn you home into a palace with a new paint job,
NOTE:
We charge a nominal fee of $85 to come to your home or office, evaluate your interior and/or exterior painting and make recommendations on how to best satisfy your every painting need. This fee will be credited to you if we do you painting.
If you do not wish to fill out our on-line form just:



If you happen to be outside the greater Houston calling area, call us toll free at 1(800) 606-9453.