Option Period Inspection Repair and Make Ready Services!!
The listing make ready and option period after a contract is executed, can be a very stressful time, as inspection reports can reveal an overwhelming number of flagged or non-compliant items. A good Buyer's or Seller's Agent should do everything in their power to keep the contract in good standing and help their client reach the ultimate goal - CLOSING. To do this, most Realtors® have a group of licensed and qualified contractors to provide the best, and hopefully lowest, estimates possible for the repairs to be made. However, many buyers and sellers are astonished to find that many contractors are not willing to bid inspection repairs.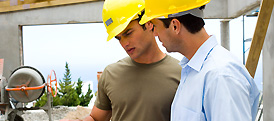 Much to the buyer's and seller's dismay, most contractors do not see any chance of their bid being accepted, and are hesitant to provide free estimates. Unfortunately for you, the buyer or seller has to pay those contractors a "trip charge", regardless of whether an estimate is provided or not. In many cases, the contractor will not bid at all, thereby making your task of getting an estimate harder.
One Call has a better option! Instead of dealing with multiple contractors, hoping for several estimates that are reasonable, One Call, through it's many years of experience and extensive list of highly qualified sup-contractors, can provide an inspection review, invaluable feedback and one estimate report that outlines the costs of all repairs requested. We can provide quotes for most service areas out to Grand Parkway on the west and north west, and Hwy 6 on the south. We will also perform the work if the project is inside Beltway 8.
If you project is Inside Beltway 8, just click the link below and we will provide a quote and, if necessary, have a manager call.
If you project is Outside Beltway 8, just click the link below and we will provide a quote, and if necessary, have a manager call.
You can also deliver the inspection report immediately by Email or upload it directly to our website utilizing our drag and drop tool.
Upon receipt, we will review every deficient item one the report or those the buyer or seller selects, and provide an estimated cost to perform those repairs that are necessary to move forward with the sale or purchase. If the prroperty is inside Beltway 8, we can perform the repairs. If it is outside Beltway 8, the estimate of costs should be ample for another contractor to perform the work.
As you know, first impressions and the properties appearance as a well maintained home is what makes a home marketable.
One Call knows how to make it so!!
In short, One Call makes this process simple and easy, for the agents, the buyer and/or the seller.
For more information or to order a repair estimate,
NOTE:
We charge a nominal fee of $105 to provide a written evaluation of your make ready and after inspection - option period repairs and, if necessary, make recommendations on how to best handle your repair needs. Repairs are only performed inside Beltway 8.
For those customers outside Beltway 8, we will provide a quotation for the repairs, but we will not perform the repairs.

We do not provide verbal quotes. All quotes will be provided in writing only.

Our turn around time for option period inspection report quotes is usually 48 hours. We can provide quotations in less time, but to do so, you need to order our expedite service for $150.

Are you a WCR member?
If so, we have a special offer for you, Click Here.
To see a Sample Report, Click Here.

If you would like to see some of our work, Click Here.
If you do not wish to fill out our on-line form just:



If you happen to be outside the greater Houston calling area, call us toll free at 1(800) 606-9453.