Option Period Inspection Repair and Make Ready Services!!
One Call Home Handyman's team has in excess of 50 years' of combined experience in the construction business and knows that many Realtors®, home owners and buyers who are selling, making ready or buying a home will need help with making sense of the costs associated with make ready, option period and after inspection repairs. We take pride in offering our customers access to the finest workmanship available and craftsmen who are well versed in handling multiple make ready and inspection repair services — at very competitive prices.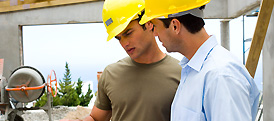 The listing make ready and option period after a contract is executed can be a very stressful time, as inspection reports can reveal an overwhelming number of flagged or non-compliant items. A good Buyer's or Seller's Agent should do everything in their power to keep the contract in good standing and help their client reach the ultimate goal - CLOSING. To do this, most Realtors® have a group of licensed and qualified contractors to provide the best, and hopefully lowest estimates possible for the repairs to be made. However, many buyers and sellers are astonished to find that many plumbers, electricians, HVAC specialists, handymen and painting contractors are not willing to bid inspection repairs.
Much to the buyer's and seller's dismay, most contractors do not see any chance of their bid being accepted, and are hesitant to provide estimates. Unfortunately you, the buyer or seller, has to pay those contractors a "trip charge", regardless of whether an estimate is provided or not. In many cases, the contractor will not bid at all, thereby making the task of getting an estimate harder.
One Call has a better option! Instead of dealing with each contractor separately, hoping for several estimates that are reasonable, One Call, through it's many years of experience and extensive list of highly qualified sup-contractors, can provide an inspection review, invaluable feedback and one estimate report that outlines the costs of all repairs requested (excluding appliances, major roofing, sprinklers and foundation repairs). We service areas out to Grand Parkway on the west and north west, and Hwy 6 on the south.
If you project is Inside Beltway 8, just click the form button below and we will have our manager call about your repairs.
If you project is Outside Beltway 8, just click the form button below and we will have our manager for that area call you.
One Call can receive the inspection report immediately by Email or by uploading the inspection report directly to our website. Upon receipt, we will review every item the buyer or seller selects, and provide a bid proposal of the estimated cost to perform all the repairs the buyer or seller feels are necessary to move forward with the sale or purchase.
In short, One Call makes this process simple and easy, for the agents, the buyer and/or the seller.
If you happen to be selling or buying a home that was built prior to 1978, you will need to determine if lead based paint is present. This is critical if you want to protect yourself and you clients from the risks associated with lead based paint hazards.

Since One Call is also an EPA Certified Renovation Firm, we can check the home for lead based paint hazards, repair painted elements and renovate you painted components using EPA approved methods. This process and the dangers to your customer's family of not following EPA standards are available for review in the EPA Renovate Right booklet.
If you choose One Call, you can expect the highest quality workmanship and, if required, we will follow EPA processing requirements of any lead based paint issues.
In short, first impressions and the appearance of a well maintained home is what makes a home what it should be and One Call knows how to make it so!!.
For more information or to order a repair estimate,
NOTE:
We charge a nominal fee of $85 to provide a written evaluation of your make ready and after inspection - option period repairs and, if necessary, make recommendations on how to best handle your repair needs. This fee will be credited if we perform any of the required repairs.

We do not provide verbal quotes. All quotes will be provided in writing.

Our turn around time for option period inspection report quotes is usually 48 hours. We can provide quotations in less time, but this is not guaranteed. If you are short on time, you need to contact us immediately to determine if we will be able to turn around your quote in the time required by your option period.

As a general contractor, we subcontract all electrical, air conditioning and plumbing projects to licensed/master electricians, air conditioning professionals and plumbers.
If you would like to see some of our work, Click Here.
If you do not wish to fill out our on-line form just:



If you happen to be outside the greater Houston calling area, call us toll free at 1(800) 606-9453.
NOTE: As general contractors,we subcontract all electrical, air conditioning and plumbing projects to licensed/master electrical, air conditioning and plumbing contractors. We do not perform this work, but instead have licensed contractors complete the work.